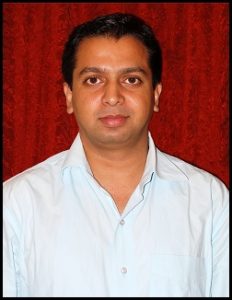 Name in full : Dr. Sandeep Kumar Sood
Date of Birth: 10-08-1974
Father's Name: Shri Sushil Kumar Sood
Mailing Address: Associate Dean (Academic Affairs & Student Welfare) & Professor, Computer Science & Engineering, Guru Nanak Dev University Regional Campus, Hardochannia Road, Gurdaspur, Punjab Pin Code: 143521
Tel. No (with STD code): 01874-242449 , 01874-242678 (FAX).
Mobile: 09465204534
E-mail ID: san1198@gmail.com, san1198@yahoo.co.in
Permanent Address: Dr. Sandeep Kumar Sood S/O Shri Sushil Kumar Sood, Main Bazaar Thural, V.P.O. Thural, Tehsil Palampur, Distt. Kangra, Himachal Pradesh-176107
Marital Status: Married
Nationality: Indian
State of Domicile: Himachal Pradesh
Category:  General
 Present Employer: Registrar, Guru Nanak Dev University, Amritsar
Research Metrics
Two Patents Published in Indian Patent Office, Delhi with Reference No. 1380/DEL/2015 and International Classification No. G09B3/00 and second with Application No. 201611024412 and International Classification No. G06Q 50/00.
Qualified NET (Computer Application) in 2000 and GATE in 1997 with percentile 89.41.
Total Research Documents- 98.
Orcid ID (Author ID): 35173770300
Number of SCI/SCIE Indexed Journal Articles- 50 + 5*    (* Minor/Major Revisions has been submitted)
Cumulative Thomson Reuters Impact Factor (SCI/SCIE Publications) – 110.886
Published in SCI/SCIE Journals 
IEEE Internet of Things Journal, IEEE- 5.863.
Future Generation Computer Systems, Elsevier- 4.968.
IEEE Systems Journal, IEEE- 4.337.
IEEE Transactions on Industrial Informatics, IEEE- 6.764.
Journal of Network and Computer Applications, Elsevier- 3.991.
Telematics and Informatics, Elsevier- 3.789.
Pervasive and Mobile Computing, Elsevier- 2.974.
Computers & Security, Elsevier- 2.862.
Computer in Industry, Elsevier- 2.850.
Mobile Networks and Applications, Springer- 2.497.
International Journal of Fuzzy Systems, Springer- 2.396.
Simulation Modeling: Practice and Theory, Elsevier- 2.239.
Journal of Medical Systems, Springer- 2.098.
Journal of Parallel and Distributing System, Elsevier-1.974.
Medical and Biological Engineering and Computing, Springer- 1.971.
Journal of Computational Sciences, Elsevier- 1.925.
Computer and Electrical Engineering, Elsevier- 1.781.
Enterprise Information Systems, Taylor & Francis- 1.683.
Computing, Springer- 1.654.
Cluster Computing, Springer- 1.601.
Multimedia Tools and Applications, Springer- 1.541.
Journal of Supercomputing, Springer- 1.532.
Journal of Ambient Intelligence and Humanized Computing, Springer- 1.423.
Behaviour & Information Technology, Taylor & Francis, 1.38.
International Journal of Network Management, Wiley- 1.34.
International Journal of Technology Assessment in Health Care, Cambridge University Press-1.333.
Wireless Personal Communications, Springer- 1.2.
Optical Switching and Networking, Elsevier- 1.199.
Sustainable Computing, Elsevier- 1.196.
Computer Application in Engineering Education, Wiley- 1.153.
World Wide Web, Springer-1.150
Concurrency and Computation: Practice and Experience, Wiley- 1.114.
Computing in Science and Engineering, IEEE Magazine- 1.074.
Security and Communication Networks, Wiley- 0.904.
Journal of Optical Communications, De Gruyter -0.223.
Total Research Project Sanctioned Amount till date- 44,86,000/-

"Trust based Proactive Resource Provisioning in Clouds" Sanctioned by U.G.C as major project costing Rs. 10,48,000/- with One Research Fellow (Completed).
"Big Data, Internet of Things and Cloud Computing: Architecture, Issues and Applications in Indian Perspective", sanctioned by Department of Electronics and Information Technology (DeitY) costing 14,76,000/- with One Research Fellow (Ongoing).
"Smart Disaster Management using Internet of Things (IoT) in Indian Perspective" sanctioned by Council of Scientific and Industrial Research costing 19,62,000/- with one research fellow (Ongoing).